Call for Papers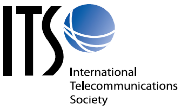 28th ITS European Conference
Passau, Germany, 30th July – 2nd August 2017
Competition and Regulation in the Information Age
The information age, where information and data have become a crucial good and production factor, has brought about several business disruptions in the telecommunications and media industries. This includes the phenomenon of digital convergence, which has caused the boundaries between traditionally distinct regulatory realms, such as communications and media services but also between communications and information services, to become blurred. This has not only fundamentally changed how we communicate, and how we consume (digital) goods, but possibly also implies fundamental changes on how these markets should be regulated. In this vein, new business models and regulation associated with digital convergence also bring about several opportunities and challenges, e.g., for designing a smarter world (e.g., in the context of smart cities and smart grids), for closing the digital divide (e.g., zero-rated information services), or for empowering and protecting consumers (e.g., consumer privacy).
The next European regional ITS conference aims to address these and related issues, from a regulatory as well as a consumer and firm perspective, as well as their implications for Europe's dynamic information and telecommunications market. It brings together academics, policy makers, users and operators to discuss opportunities and challenges for the evolution of the European information infrastructure and its role in the wider world.
These and other topics will be addressed at the 28th European regional conference in Passau, Germany. Papers and panel sessions in the following areas are called for:
Digital divides – their character and how they can be overcome
The contribution of telecommunications to economic growth and development
The development and socio-economic impact of mobile applications
The provision of telecommunication services to marginalised communities
Regulation – its implementation, form and future development
The impact of regulation on operator strategy and investment
Operator strategies – consolidation, investment and innovation
The impact of OTT, its regulation and future development
Convergence – technological, economic and regulatory
The interaction between content and telecommunication markets – development, bundling and convergence
Broadband – spectrum and mobile broadband, funding and forms of infrastructure investment
Mobile markets – national roaming, convergence with fixed, the challenges of mature markets
Innovative business models – content and the Internet of Things
Innovative new services – e-health, m-health, e-education etc.
Online markets – the value of personal and location data, children as online actors,
Big data – tools and techniques of collecting and analysing large datasets, socio-economic consequences of big data
Net neutrality – debates, challenges and future
Internet governance and the control of content and customers
Cyber security and privacy as an infrastructure issue
Submissions on other topics are also welcomed.
Authors are encouraged to submit their papers for publication in Telecommunications Policy as well as other international peer-reviewed academic journals. A thematic special issue of Telecommunications Policy will be announced in due course.
Important dates:
30 March 2017: Deadline for abstracts and panel session suggestions. Note that the deadline is strict and not to be extended.
20 April 2017: Notification of acceptance
22 May 2017: Early registration deadline
1 July 2017: Deadline for final papers
30th July – 2 August 2017: ITS 2017 Regional Conference in Passau, Germany
Submission of abstracts:
Abstracts should be about 2 pages (800 to 1000 words) in length and contain the following information:
Title of the contribution
A clear statement of the research question
Remarks on methodology adopted in the paper
Outline of (expected) results
Bibliographical notes (up to 6 main references used in the paper)
All abstracts will be subject to blind peer review.
On-line submission:
ITS 2017 is using the Easychair online submission system. To submit an abstract through Easychair, please use the following link:

https://easychair.org/
If you do not have an account with Easychair, you must set one up. If you have used Easychair as an author or reviewer for a previous conference, you can reuse your existing password and account.
Please ensure that your abstract is anonymised. You will be invited to provide your personal information in a different section.
If you have questions please contact jason.whalley@northumbria.ac.uk. More information on how to submit abstracts and important dates and deadlines can be found on the website at: http://www.itseurope.org/
The conference is being co-organised by ITS and the

Chair of Internet and Telecommunications Business, University of Passau, Germany.
Local Organizer:
Prof. Dr. Jan KRÄMER,
Chair of Internet and
Telecommunications Business,
University of Passau, Germany
ibusiness@uni-passau.de
ITS:
Dr. Brigitte PREISSL,
German National Library of Economics, Hamburg, Germany
b.preissl (at) zbw.eu
Prof. Jason WHALLEY,
Northumbria University, Newcastle, UK
jason.whalley@northumbria.ac.uk