Visiting Passau
The "city of three rivers" Passau
Passau is widely considered one of the loveliest cities in Germany with its historic old town situated between three rivers. The historic centre of Passau got its southern-baroque appearance through Italian builders, who rebuilt the city during the 17th century after a disastrous fire. Picturesque places, twisty streets and romantic promenades are inviting to discover and rest there.
At the three river conjunction point you can witness a breath-taking natural spectacle, three rivers, Danube, Inn and Ilz, coming to together in one place. Passau is also an important starting point of numerous enchanting Danube cruises via Vienna, Budapest and Belgrade to the Black Sea that can be booked in tourist agencies worldwide. A

Cruise manual

published by the City of Passau  gives you more information.
Some impressions of Passau: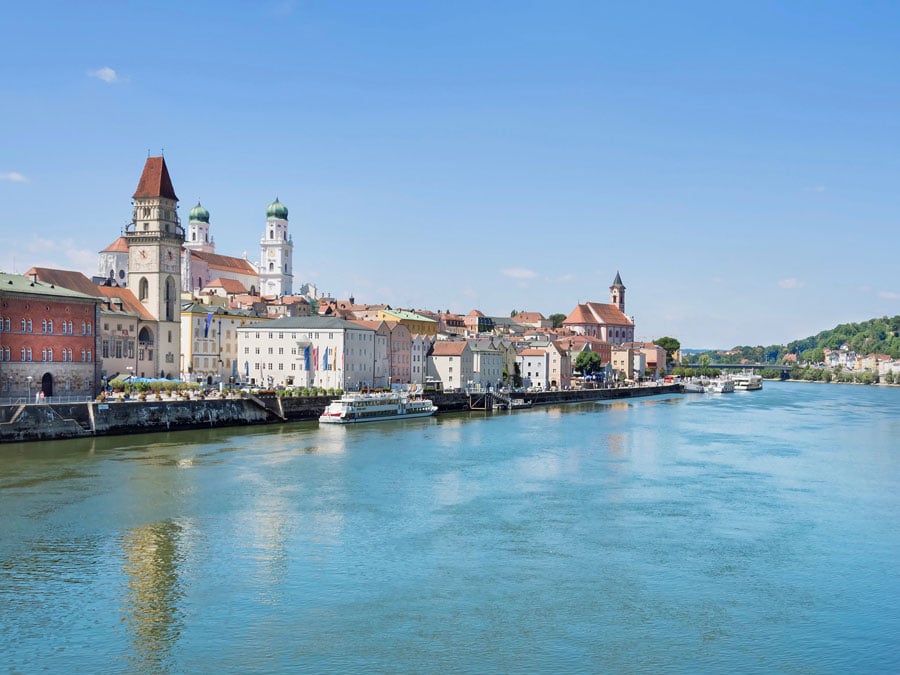 Passau

Three river conjunction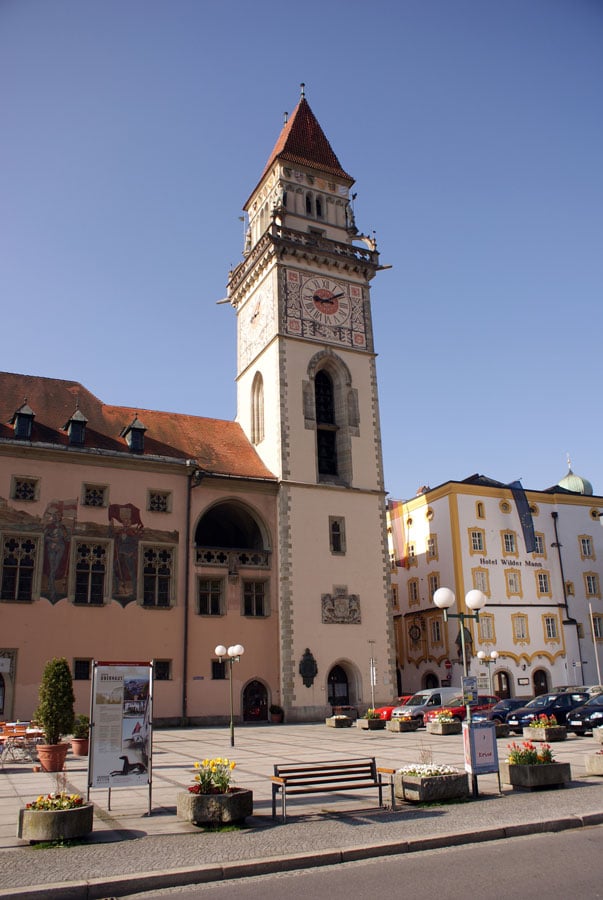 Passau town hall

Fortress Veste Oberhaus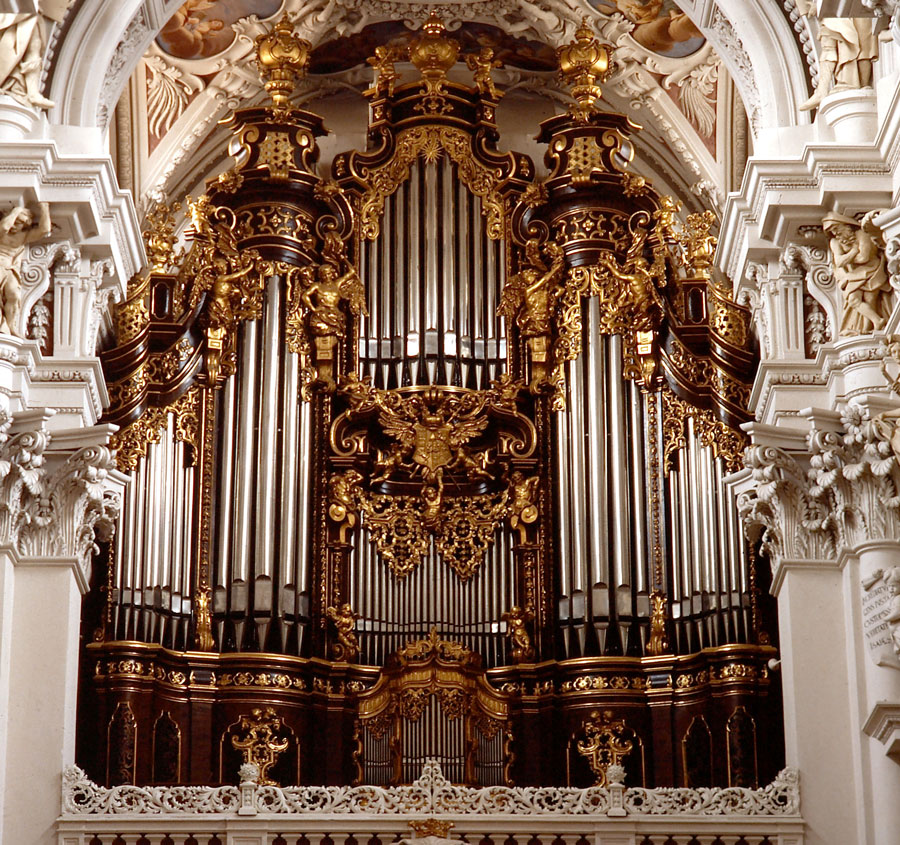 St. Steven's Cathedral and the world's largest cathedral organ
Find more information about Passau here:


http://tourism.passau.de
Passau is located in Bavaria, in between the major metropolitan centres of Prague, Munich, Nürnberg and Vienna. It also lies next to the

Bavarian Forest , the oldest of Germany's sixteen National Parks, where you can go hiking in untouched nature.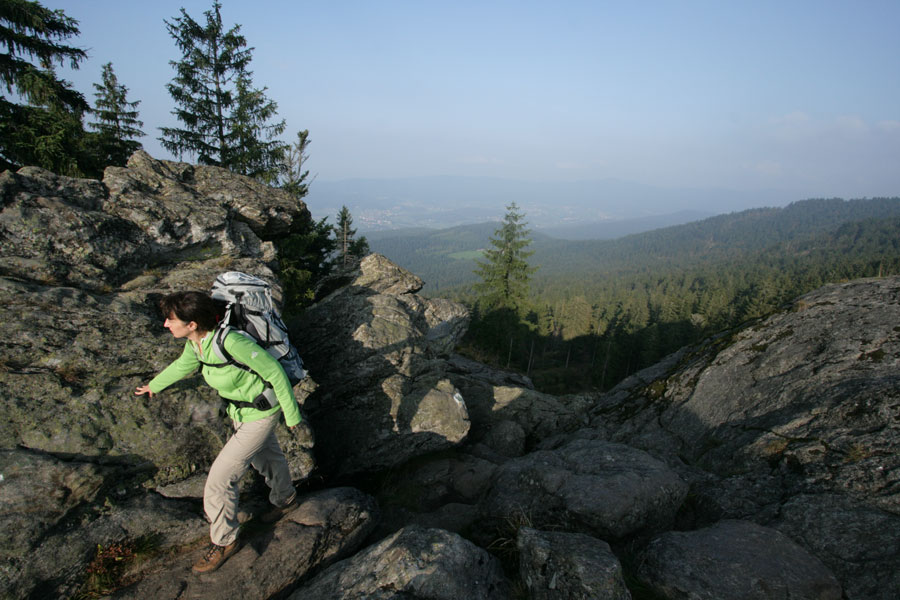 Moreover, several UNESCO World Heritage, as the old town of Regensburg, Würzburg residence and Hofgarten, church of pilgrimage "Die Wies", old town Bamberg, historic centre of Salzburg (A), palace Schönbrunn in Vienna (A), old town Cesky Krumlov (CZ), historic centre of Prague are near Passau.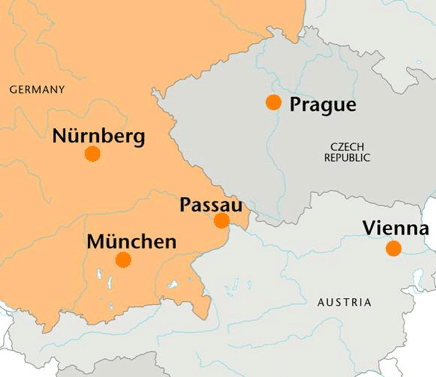 Find more sights in Bavaria here:


http://www.bavaria.by

http://www.welcomedahoam.com

http://www.schloesser.bayern.de
General Information
Language
German is the official language in Germany but English is widely spoken.
The official conference language is English and no translation/interpretation services will be offered.
Timezone
UTC+01:00
Visa information
General information regarding the conditions of entry on the territory of EU is provided by the German Federal Foreign Office.


http://www.auswaertiges-amt.de/EN/Infoservice/FAQ/VisumFuerD/Uebersicht.html?nn=480902
Emergency
In emergency situations, you can contact the local police by calling 110, and the fire department or ambulance by calling 112
Health and Immunizations
Vaccination certificates are usually not needed when travelling to Germany, but please check with your local embassy as requirements may change.
Telephones International dialing codes
Germany: +(49)
Austria: +(43)
Electricity
The standard electrical voltage in Germany is 230 volts AC, 50Hz (hotel bathrooms may also have outlets for 100 volts). The electrical outlets in Germany take two-pronged, round-pin plugs. We recommend that you purchase an adaptor for your electrical equipment prior to your arrival.
Water
Tap water is safe to drink in Passau.
Conversions: Distance & Temperature
Distances in Germany are given in kilometres.
1 mile = 1.62 kilometres
Temperature is given in degrees Celsius
Celsius to Fahrenheit: multiply Celsius by 1.8 and add 32 to convert to Fahrenheit.
Currency
The currency used in Passau is Euros (€).
ATMs & Credit Cards
ATMs are widely available throughout Passau and most are open 24 hours a day. Souvenir and clothing stores accept all major credit cards, however grocery stores, cafes and some restaurants will only accept cash.
Tipping
Service and VAT are included in the menu price in restaurants, bars, etc. all over Germany. Still, it is typical to "round up" the amount to some more-or-less round figure. A rule of thumb is to add 5-10%, generally ending with a full Euro amount. It is not typical to be given a check, then leave your money on the table. You have to tell the amount including tip you want to pay before you pay (via cash or credit car)